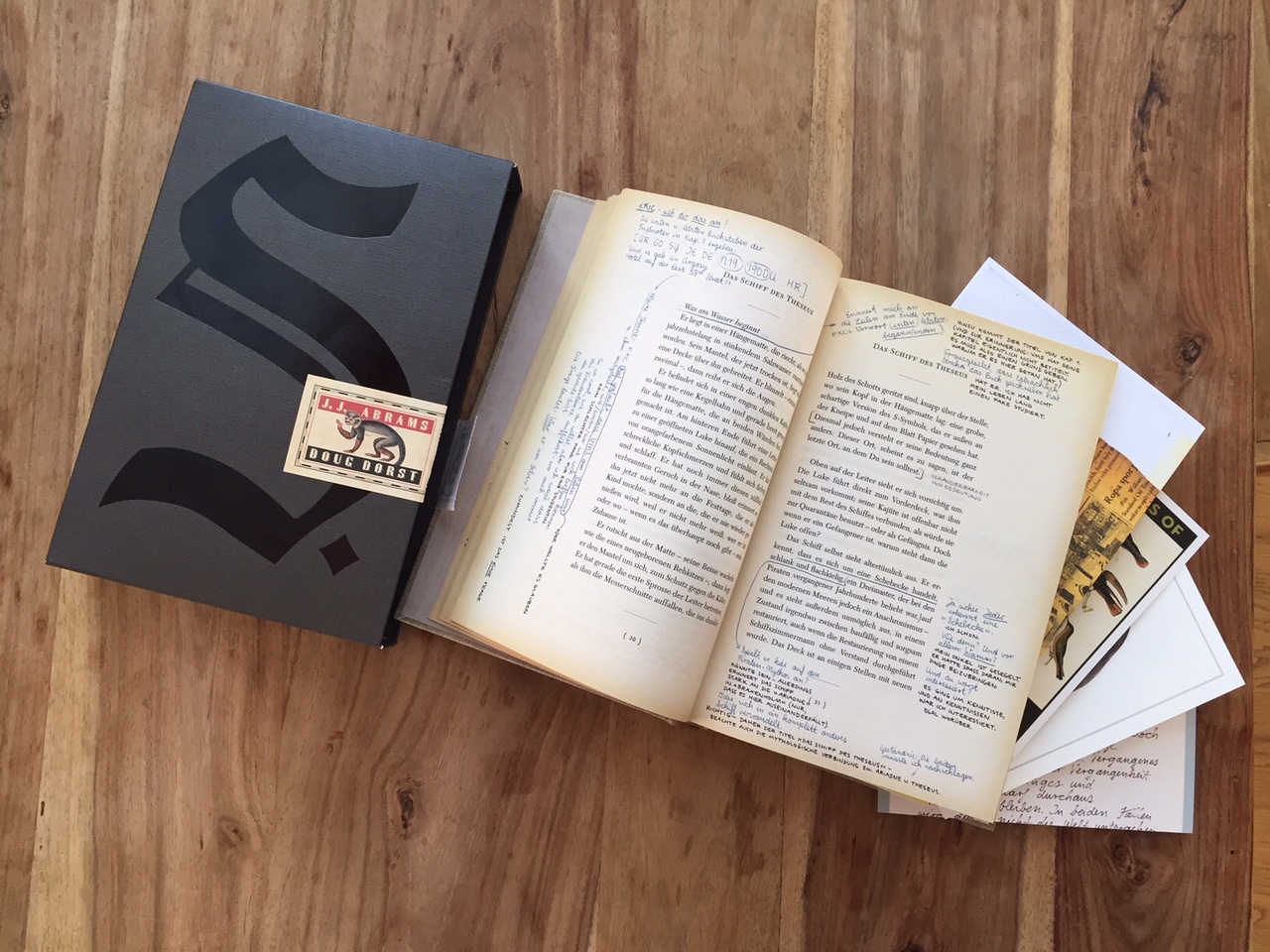 Storytelling: Star Wars director J.J. Abrams reinvents the book
An extraordinary book, now available in German. With their exquisitely designed novel, Hollywood director J.J. Abrams and author Doug Dorst are proving that interactive storytelling does not necessarily have to be digital.
One book, two readers, and a world full of mystery: S., Ship of Theseus conceived by filmmaker J.J. Abrams and written by novelist Doug Dorst, is a creative explosion on multiple narrative levels.
A college girl discovers a book that a young scholar has left in the library – and it's full of notes and annotations. She jots down her own comments and then returns it to the library. This begins a dialog between two strangers in the book's margins. They debate, interpret, and flirt with each other over the course of months, until every page is covered in scribbles. The text they are discussing is Ship of Theseus, the final novel of a successful author. It tells the tale of a man who is abducted on a ship and sent on a peculiar journey. As you read the classic chapbook-style story, it increasingly blends with the secondary plot in the margins.
"A love letter to the written word"
The highlight? S., Ship of Theseus (published by Mulholland Books) is perceived by the reader as if it really were a loan copy from a library. It includes hundreds of annotations, and various inserts in the form of newspaper cuttings, napkins, letters, and postcards from around the world. It is a love letter to the written word, and books as a medium. Never has there been a work so elaborately designed and adorned with extras. Its inserts are like the add-ons you usually see in digital media, but with one major difference: they are "real". "It's almost impossible to imagine S. even existing in a format outside of print, never mind being as successful in it," praised digital (!) magazine Wired.
The book's ingenuity and diversity of voices is reminiscent of the TV series Lost, which J.J. Abrams co-created and produced. In an interview with CNN, Abrams explained that the idea came to him 15 years ago at Los Angeles International Airport, where he found a Robert Ludlum novel that had been left on a bench. Inside, someone had written a note to whomever found the book to read it, then take it somewhere and leave it for another person to read.
Form follows function
When even the director of CGI-packed blockbusters such as Star Trek and Mission Impossible III reverts back to printed media, it gives us clear proof that digitization is not obligatory. Choosing the right channel for your own story depends solely on its content and purpose – not the current trends. This is perhaps one of the reasons why Star Wars Episode VII will be shot entirely in 35mm, rather than digitally. Reason enough to go and see the new film.
A look inside the book